ArmourBite® Mouthguard Custom
ArmourBite® (featuring our patented Power Wedges™) unlocks the power of your jaw, while reducing the impact from blows to your jaw. So you can reach your full potential as an athlete, safely. Plus, with this custom product, you can get the same fit, flair and functionality the pros do – in less than 20 painless minutes with your dentist. Perfect for contact sports like football, lacrosse and hockey.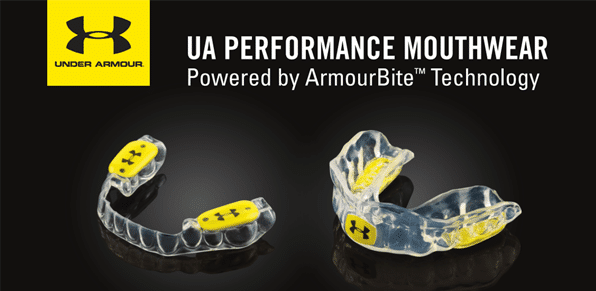 Benefits
The ArmourBite® Mouthguard delivers multi-patented technology. The performance is proven in independent scientific studies. The advantages are undeniable.
Increases Strength
Increases Endurance
Speeds Up Reaction Time
Custom Colors
The dental-fit ArmourBite® Mouthguard is available in a wide range of custom-color combinations. Custom components include the Mouthguard EVA, Logo Decal and Power Wedges.
PlaySafe® Mouthguards
Laboratory-made PlaySafe® sports mouthguards are prescribed for both professional and amateur athletes because they offer the highest level of protection during sports activity. When worn properly, they can prevent dental trauma, such as fractured teeth. They are also indicated for patients with an orthodontic situation, such as braces, who must wear a mouthguard for preventive measures.
PlaySafe sports mouthguards provide superior fit and retention compared to boil-and-bite mouthguards. Available in six levels of protection, the mouthguards range from one to three layers of laminated ethylvinylacetate material with a final occlusal thickness between 3 mm and 5 mm. PlaySafe mouthguards can be customized with stickers and team logos and are available in a variety of colors to fit the personality of every star athlete in your practice!